Kia Rio: Exhaust Emission Control System / CVVT (Continuously Variable Valve Timing) System
Description and operation
Continuous Variable Valve Timing (CVVT) system advances or retards the valve timing of the intake and exhaust valve in accordance with the ECM control signal which is calculated by the engine speed and load.
By controlling CVVT, the valve overlap or underlap occurs, which makes better fuel economy, reduces exhaust gases (NOx, HC) and improves engine performance by reducing pumping loss, giving internal EGR effect, improving combustion stability and volumetric efficiency, and increasing expansion work.
This system consists of
| | |
| --- | --- |
| – | the CVVT Oil Control Valve (OCV) which supplies the engine oil to the cam phaser or takes out the engine oil from the cam phaser in accordance with the ECM PWM (Pulse Width Modulation) control signal, |
| | |
| --- | --- |
| – | the CVVT Oil Temperature Sensor (OTS) which measures the engine oil temperature, |
| | |
| --- | --- |
| – | Cam Phaser : Changes the cam phase by using the hydraulic force of the engine oil. |
The engine oil which is supplied from the CVVT oil control valve changes the cam phase in the direction (Intake Advance/Exhaust Retard) or opposite direction (Intake Retard/Exhaust Advance) of the engine rotation by rotating the rotor connected with the camshaft inside the cam phaser.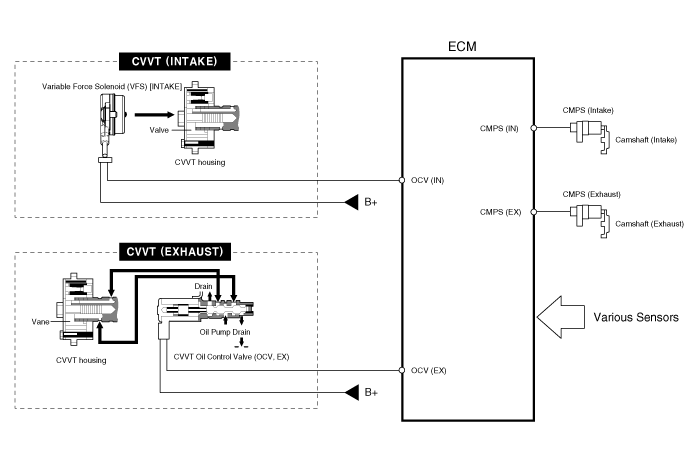 It increases the retarded amount compared to the default state to expand the operating range of the variable valve timing system.
The cam phase is fixed mechanically so that it is locked at the middle position.
▷Effect
Improves fuel efficiency by approx. 1.7%.

Expands the intake CVVT operating range.
(Increases the retarded amount by up to 30° compared to the default state.)
∇
LIVC (Late Intake Valve Close)
∇
1. Improves fuel efficiency by reducing pumping loss.
2. Improves knocking characteristics by reducing compression ratio.


Default position: Middle
CVVT operates in advanced / retarded directions.

The CVVT has the mechanism of rotating the rotor vane with hydraulic force generated by the engine oil supplied to the advance or retard chamber in accordance with the CVVT oil control valve control.
| | |
| --- | --- |
| • | The variable force solenoid (VFS) changes its force depending on the PWM duty to control the stroke of the OCV. |
| | |
| --- | --- |
| • | It also controls the lock, unlock, advanced, retarded, and holding functions. |
| | |
| --- | --- |
| 1. | Intake CVVT |
| | |
| --- | --- |
| 2. | Exhaust CVVT |
[CVVT System Mode]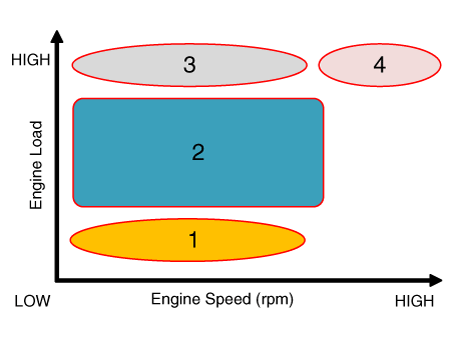 | | |
| --- | --- |
| (1) Low Speed / Low Load | (2) Partial Load |
| | |
| (3) Low Speed / High Load | (4) High Speed / High Load |
| | |
Driving
Condition

Exhaust Valve

Intake Valve

Valve
Timing

Effect

Valve
Timing

Effect

(1) Low Speed
/Low Load

Completely
Advance

* Valve Under-lap
* Improvement of combustion stability

Completely
Retard

* Valve Under-lap
* Improvement of combustion stability

(2) Partial Load

Retard

* Increase of expansion work
* Reduction of pumping loss
* Reduction of HC

Retard

* Reduction of pumping loss

(3) Low Speed
/High Load

Retard

* Increase of expansion work

Advance

* Prevention of intake back flow (Improvement of volumetric efficiency)

(4) High Speed
/High Load

Advance

* Reduction of pumping loss

Retard

* Improvement of volumetric efficiency