Kia Rio: Child Restraint System (CRS) / Using a child restraint system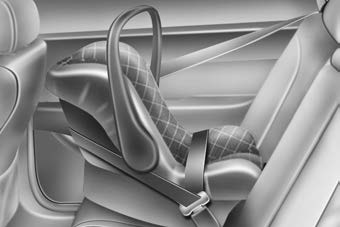 Rear- facing child restraint system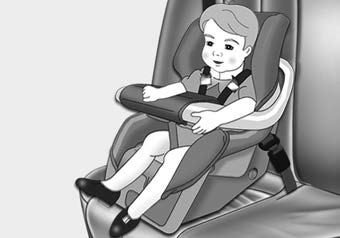 Forward-facing child restraint system
For small children and babies, the use of a child seat or infant seat is required. This child seat or infant seat should be of appropriate size for the child and should be installed in accordance with the manufacturer's instructions.
For safety reasons, we recommend that the child restraint system be used in the rear seats.
Since all passenger seat belts move freely under normal conditions and only lock under extreme or emergency conditions (emergency lock mode), you must manually change these seat belts to the auto lock mode to secure a child restraint.
If the seat belt does not operate as described in this section, have the system checked immediately by your authorized Kia dealer.
WARNING - Unattended Children
Never leave children unattended in a vehicle. The vehicle can heat up very quickly, resulting in injuries and possibly even death of the child in the vehicle.
WARNING - Child seat installation
Always follow the instructions provided by the child restraint system manufacturer. Child restraint system manufacturers know their products best.
Failure to observe this manual's instructions regarding child restraint system and the instructions provided with the child restraint system could result in the improper installation of the child restraint system which may reduce the protection to your child in a crash or a sudden stop.
✽ NOTICE
If the vehicle headrest prevents proper installation of a child seat (as described in the child seat system manual), the headrest of the respective seating position shall be readjusted or entirely removed.