Kia Rio: Fuses / Engine compartment fuse replacement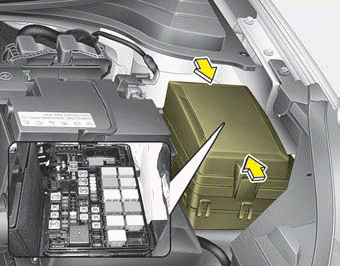 1. Turn the ignition switch and all other switches off.
2. Remove the fuse panel cover by pressing the tab and pulling the cover up. When the blade type fuse is disconnected, remove it by using the clip designed for changing fuses located in the engine compartment fuse box. Upon removal, securely insert reserve fuse of the same rating.
3. Check the removed fuse; replace it if it is blown. To remove or insert the fuse, use the fuse puller in the engine compartment fuse panel.
4. Push in a new fuse of the same rating, and make sure it fits tightly in the clips. If it fits loosely, consult an authorized Kia dealer.
CAUTION
After checking the fuse panel in the engine compartment, securely install the fuse panel cover through the audible clicking sound.
If not, electrical failures may occur from water contact.
Multi fuse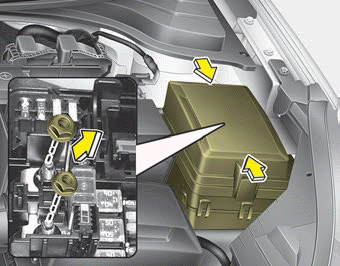 If the multi fuse is blown, it must be removed as follows:
1. Turn off the engine.
2. Disconnect the negative battery cable.
3. Remove the nuts shown in the picture above.
4. Replace the fuse with a new one of the same rating.
5. Reverse these steps to reinstall the multi fuse.
CAUTION
Do not disassemble nor assemble the multi fuse when it is secured with nuts and bolts. Incorrect or partial assembly torque may cause a fire. Have the vehicle checked by an authorized Kia dealer.
CAUTION
Visually inspect the battery cap to ensure it is securely closed. If the battery cap is not securely closed, moisture may enter the system and damage the electrical components.
CAUTION - Random wiring prohibited when retrofitting equipment
Use of random wiring in the vehicle might cause danger due to failure and damage of the vehicle's performance. Using random wires especially when retrofitting AVN or theft alarm system, remote engine control, car phone or radio might damage the vehicle or cause fire.
CAUTION - Remodeling Prohibited
Do not try remodeling the vehicle in any way. It is illegal, and may affect the vehicle's performance, durability, and safety. The manufacturer's warranty does not cover any problems caused by remodeling. Remodeling the vehicle can cause malfunction of the vehicle, wiring damage, battery discharge, connector damage, or fire.
✽ NOTICE - Window tinting precaution
Window tint(especially metallic film) might cause communication disorder or poor radio reception, and malfunction of the automatic lighting system due to excessive change of illumination inside the vehicle. The solution used might also flow into electric, electronic devices causing disorder and failure.