Kia Rio: Safety features of your vehicle / Seat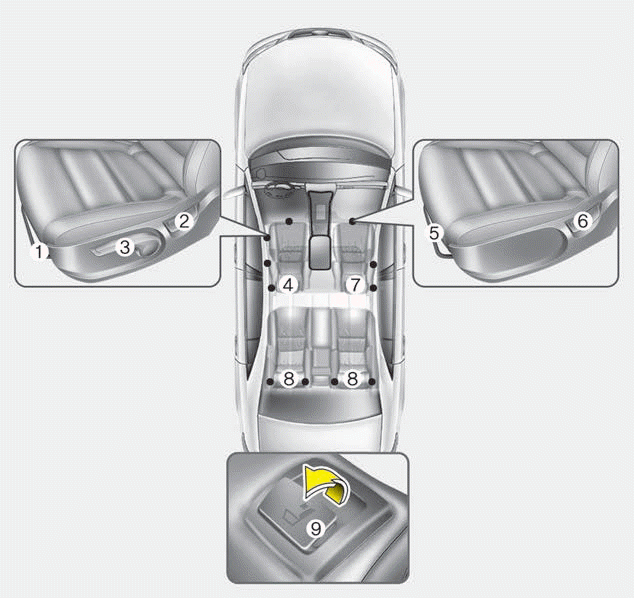 Driver's seat
(1) Forward and backward
(2) Seatback angle
(3) Seat height adjustment*
(4) Headrest
Front passenger's seat
(5) Forward and backward
(6) Seatback angle
(7) Headrest
Rear seat
(8) Headrest
(9) Seatback folding*
WARNING - Loose objects
Do not place anything in the driver's foot well or under the front seats. Loose objects in the driver's foot area could interfere with the operation of the foot pedals.
WARNING - Uprighting seat
Do not press the release lever on a manual seatback without holding and controlling the seatback. The seatback will spring upright possibly impacting you or other passengers.
WARNING - Seat cushion
Occupants should never sit on aftermarket seat cushions or sitting cushions. The passenger's hips may slide under the lap portion of the seat belt during an accident or a sudden stop.
WARNING - Driver responsibility for passengers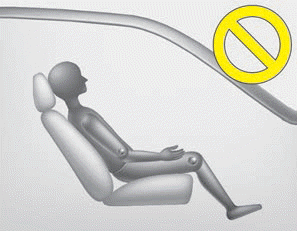 The driver must advise the passenger to keep the seatback in an upright position whenever the vehicle is in motion. If a seat is reclined during an accident, the restraint system's ability to restrain will be greatly reduced.
WARNING - Driver's seat
Never attempt to adjust the seat while the vehicle is moving. This could result in loss of control of your vehicle.
Do not allow anything to interfere with the normal position of the seatback and seatback adjustment.
Sit as far back as possible from the steering wheel while still maintaining comfortable control of your vehicle. A distance of at least 25 cm (10 in) from your chest to the steering wheel is recommended. Failure to do so could result in air bag inflation injuries to the driver.
WARNING - Seat adjustment
Do not adjust the seat while wearing seat belts. Moving the seat forward will cause strong pressure on the abdomen.
Do not place your hand near the seat bottom or seat track while adjusting the seat. Your hand could get caught in the seat mechanism.
WARNING - Small Objects
Use extreme caution when picking up small objects trapped under the seats or between the seat and the center console. Your hands might be cut or injured by the sharp edges of the seats mechanism.
Feature of Seat Leather
Leather is made from the outer skin of an animal, which goes through a special process to be available for use. Since it is a natural substance, each part differs in thickness or density. Wrinkles may appear as a natural result of stretching and shrinking depending on the temperature and humidity.
The seat cover is made of stretchable material to improve comfort of passengers.
The parts contacting the body are curved and the side supporting area is high which provides driving comfort and stability.
Wrinkles may appear naturally from usage. It is not a fault of the product.
CAUTION
Belts with metallic accessories, zippers or keys inside your back pants pocket may damage the seat fabric.
Make sure not to wet the seat. It may change the nature of natural leather.
Jeans or clothes which contain bleach may contaminate the surface of the seat covering fabric and cause damage or discoloration.
✽ NOTICE
Wrinkles or abrasions which appear naturally from usage are not covered by warranty.