Kia Rio: Manual Transaxle System / Manual Transaxle
Components and components location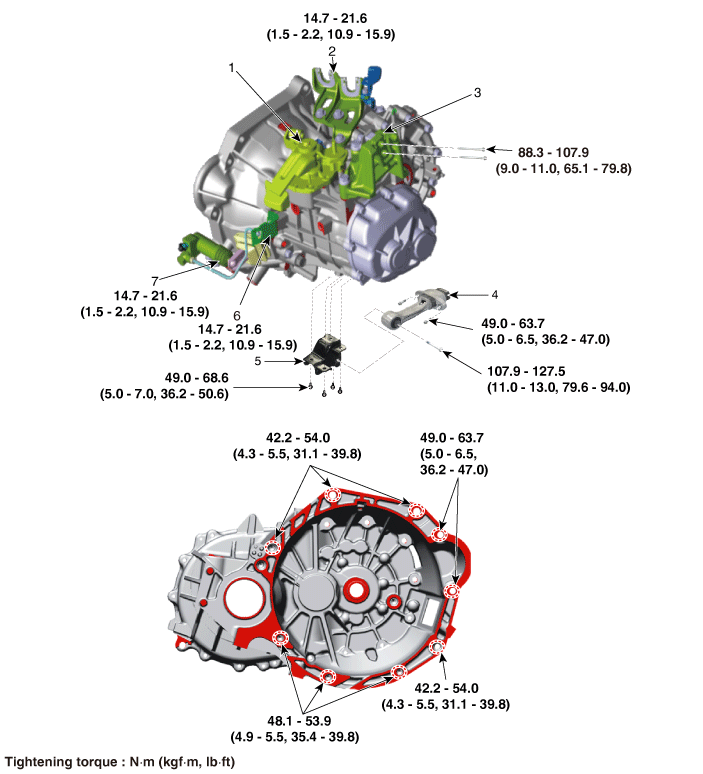 1. Control shaft complete
2. Control cable bracket
3. Transaxle support bracket
4. Roll rod bracket


5. Roll rod support bracket
6. Clutch tube bracket
7. Clutch release cylinder assembly

Repair procedures
1.

Remove the air cleaner assembly.

(Refer to Engine Mechanical System - "Air Cleaner")
2.

Remove the battery and battery tray.

(Refer to Engine Electrical System - "Battery")
| | |
| --- | --- |
| 3. | Disconnect the back up lamp switch (A). |
| | |
| --- | --- |
| 4. | Disconnect the neutral switch connector (A). |
| | |
| --- | --- |
| 5. | Remove the wiring from the bracket (A). |
6.

Remove the control cable.

| | |
| --- | --- |
| (1) | Remove the control cable from the control shaft after removing the pins (A). |

(2)

Loosen the control cable bracket bolts (B).

Tightening torque:

14.7 - 21.6 N·m (1.5 - 2.2 kgf·m, 10.8 - 15.9 lb·ft)
7.

Remove the ground bolt (A) and clutch tube bracket bolt (B).

Tightening torque :

(A) 26.5 - 32.4 N·m (2.7 - 3.3 kgf·m, 19.5 - 23.9 lb·ft)

(B) 14.7 - 21.6 N·m (1.5 - 2.2 kgf·m, 10.8 - 15.9 lb·ft)
8.

Remove the CKP sensor (A) after removing a bolt.

Tightening torque :

9.8 - 11.8 N·m (1.0 - 1.2 kgf·m, 7.2 - 8.7 lb·ft)
9.

Loosen the starter mounting bolts (A) and the transaxle mounting bolts (B).

Tightening torque :

(A) : 49.0 - 63.7 N·m (5.0 - 6.5 kgf·m, 36.2 - 47.0 lb·ft)

(B) : 42.2 - 54.0 N·m (4.3 - 5.5 kgf·m, 31.1 - 39.8 lb·ft)
10.

Install the engine support fixture on the engine room.

| | |
| --- | --- |
| (1) | Loosen the bolts (6-pcs). |

| | |
| --- | --- |
| (2) | Install the engine hanger (09221-A3100). |

(3)

Assemble the engine support fixture on the engine room.

(Refer to Special Service Tools - "Engine support fixture assembly drawing")
| | |
| --- | --- |
| 11. | Support the transaxle safely on a jack. |
| | |
| --- | --- |
| 12. | Remove the cover (A). |
13.

Remove the transaxle mounting bracket bolts (A).

Tightening torque :

88.3 - 107.9 N·m (9.0 - 11.0 kgf·m, 65.1 - 79.8 lb·ft)
14.

Remove the transaxle support bracket (A).

Tightening torque :

58.8 - 78.5 N·m (6.0 - 8.0 kgf·m, 43.4 - 57.9 lb·ft)
15.

Remove the under cover.

(Refer to Engine Mechanical System - "Engine Room Under Cover")
16.

Remove the drive shaft assembly.

(Refer to Driveshaft and Axle - "Front Driveshaft")
17.

Remove the exhaust manifold stay (A).

Tightening torque:

39.2 - 49.0 N·m (4.0 - 5.0 kgf·m, 28.9 - 36.2 lb·ft)
18.

Remove the clutch release cylinder assembly (B) after removing the nuts (A).

Tightening torque:

14.7 - 21.6 N·m (1.5 - 2.2 kgf·m, 10.8 - 15.9 lb·ft)
19.

Remove the roll rod bracket (C) after removing bolt (A,B).

Tightening torque

(A) : 107.9 - 127.5 N·m (5.0 - 6.5 kgf·m, 79.6 - 94.0 lb·ft)

(B) : 49.0 - 63.7 N·m (11.0 - 13.0 kgf·m, 36.2 - 47.0 lb·ft)
20.

Remove the roll rod support bracket (A).

Tightening torque:

49.0 - 68.6 N·m (5.0 - 7.0 kgf·m, 36.2 - 50.6 lb·ft)
| | |
| --- | --- |
| 21. | Support the transaxle safely on a jack. |
22.

Loosen the transaxle lower mounting bolts (A, B).

Tightening torque

(A) 48.1 - 53.9 N·m (4.9 - 5.5 kgf·m, 35.4 - 39.8 lb·ft)

(B) 42.2 - 54.0 N·m (4.3 - 5.5 kgf·m, 31.1 - 39.8 lb·ft)
23.

After separating the transaxle from the engine, remove the transaxle by lowering the jack slowly.

Be careful not to damage other nearby systems or parts when removing the transaxle assembly.
In case of oil leakage due to damaged differential oil seal, replace the oil seal with a new one by using special tools (09431-26100, 09231-H1100).
| | |
| --- | --- |
| 1. | Install in the reverse order of removal. |
Copyright © www.krioyb.com 2017-2022