Kia Rio: Driving your vehicle / Intelligent Variable Transmission (IVT)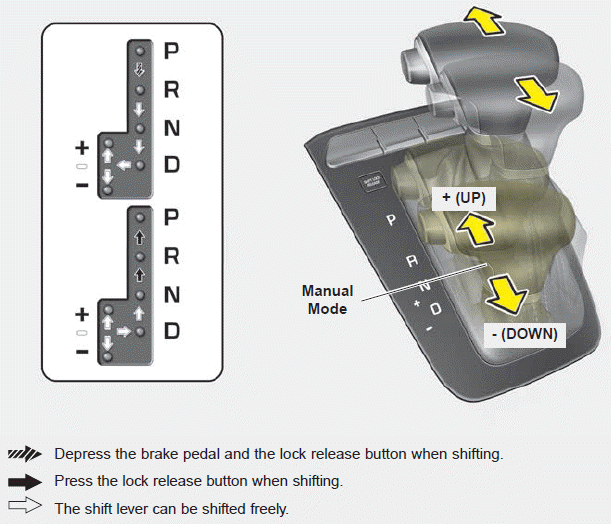 Intelligent Variable Transmission (IVT) operation
The Intelligent Variable Transmission (IVT) automatically shifts depending on speed and accelerator pedal position. The individual speeds are selected automatically, depending on the position of the shift lever.
For smooth operation, depress the brake pedal when shifting from N (Neutral) to a forward or reverse gear.
WARNING - Intelligent Variable Transmission (IVT)
Always check the surrounding areas near your vehicle for people, especially children, before shifting a car into D (Drive) or R (Reverse).
Before leaving the driver's seat, always make sure the shift lever is in the P (Park) position; then set the parking brake fully and shut the engine off. Unexpected and sudden vehicle movement can occur if these precautions are not followed in the order identified.
Do not use the engine brake (shifting from a high gear to lower gear) rapidly on slippery roads.
The vehicle may slip, causing an accident.
CAUTION
To avoid damage to your transmission, do not accelerate the engine in R (Reverse) or any forward gear position with the brakes on.
When stopped on an incline, do not hold the vehicle stationary with engine power. Use the service brake or the parking brake.
Do not shift from N (Neutral) or P (Park) into D (Drive), or R (Reverse) when the engine is above idle speed.