Kia Rio: Light bulbs / Back-up lamp bulb, Side marker (rear) (LED type) bulb replacement (Rear combination lamp Type B) (for 4 door)
Side marker (rear) (LED type) bulb replacement (Rear combination lamp Type B) (for 4 door)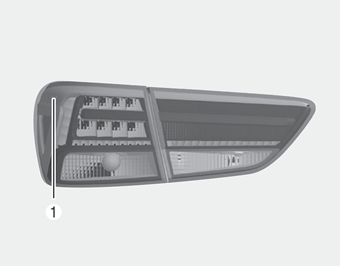 If the Side marker (LED) (1) does not operate, have the vehicle checked by an authorized Kia dealer.
The LED lamps cannot be replaced as a single component because it is part of an integrated unit. The LED lamps have to be replaced with the unit.
A skilled technician should check or repair the Side marker (LED), for it may damage related parts of the vehicle.
Back-up lamp bulb replacement (for 4 door)
1. Open the trunk lid.
2. Loosen the retaining screw of the trunk lid cover and then remove the cover.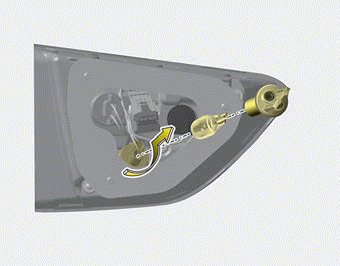 3. Remove the socket from the assembly by turning the socket counterclockwise until the tabs on the socket align with the slots on the assembly.
4. Remove the bulb from bulb-socket by pulling it out.
5. Insert a new bulb by inserting it into the bulb-socket.
6. Install the socket in the assembly by aligning the tabs on the socket with the slots in the assembly. Push the socket into the assembly and turn the socket clockwise.
7. Install the trunk lid cover.