Kia Rio: Defogging Logic / Automatic climate control system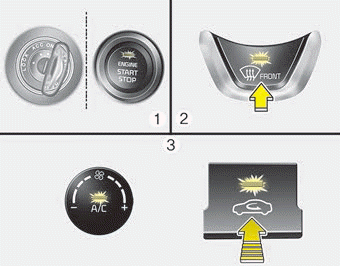 1. Turn the ignition switch to the ON position.
2. Select the defroster position before pressing the defroster button (

).
3. While pressing the air conditioning button (A/C), press the air intake control button (

) at least 5 times within 3 seconds.
The indicator on the air intake button blinks 3 times with 0.5 second of interval. It indicates that the defogging logic is canceled or returned to the programmed status.
If the battery has been discharged or disconnected, it resets to the defog logic status.