Kia Rio: Door locks / Operating door locks from outside the vehicle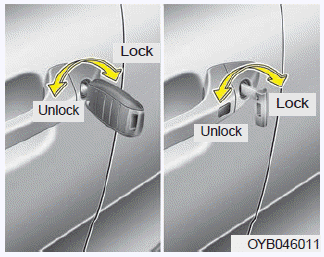 Turn the key toward the rear of the vehicle to lock and toward the front of the vehicle to unlock.
If you lock/unlock the door with a key, all vehicle doors will lock/unlock automatically.
From the driver's door, turn the key toward the front of the vehicle once to unlock the driver's door and once more within 4 seconds to unlock all doors.
Doors can also be locked and unlocked with the transmitter key (or smart key). (if equipped)
Once the doors are unlocked, they may be opened by pulling the door handle.
When closing the door, push the door by hand. Make sure the doors are closed securely.
✽ NOTICE
In cold and wet climates, door lock and door mechanisms may not work properly due to freezing conditions.
If the door is locked/unlocked multiple times in rapid succession with either the vehicle key or door lock switch, the system may stop operating temporarily in order to protect the circuit and prevent damage to system components.
WARNING
Securely close your door before you begin driving. Failure to fully close your door may cause it to open during vehicle operation.
Keep your body out of the way of the closing door to prevent injuries.
CAUTION
Do not open and close the door repeatedly if unnecessary or with excessive force. Such action can damage the vehicle door.
WARNING
If adult passengers must remain in the vehicle while it is very hot or cold outside, there is risk of injuries or danger to life. Do not lock the vehicle from the outside when there are adult passengers in the vehicle.