Kia Rio: Light bulbs / High mounted stop lamp bulb replacement (for 5 door), License plate lamp bulb replacement
High mounted stop lamp bulb replacement (for 5 door)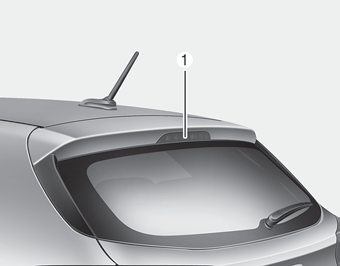 If the high mounted stop lamp (1) does not operate, have the vehicle checked by an authorized Kia dealer.
A skilled technician should check or repair the high mounted stop lamp, for it may damage related parts of the vehicle.
License plate lamp bulb replacement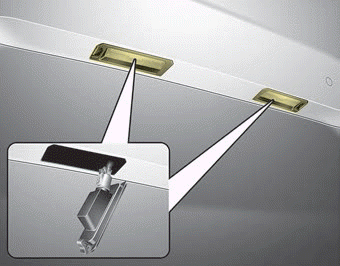 1. Using a flat-blade screwdriver, gently pry the lens cover from lamp housing.
2. Remove the socket from the assembly by turning the socket counterclockwise until the tabs on the socket align with the slots on the assembly.
3. Remove the bulb from bulb-socket by pulling it out.
4. Insert a new bulb by inserting it into the bulb-socket.
5. Install the socket in the assembly by aligning the tabs on the socket with the slots in the assembly. Push the socket into the assembly and turn the socket clockwise.
6. Align the lens cover tabs with the lamp housing notches and snap the lens into place.