Kia Rio: Liftgate (for 5 door) / Emergency liftgate safety release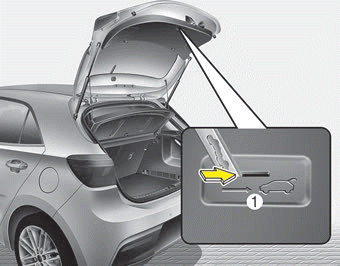 Your vehicle is equipped with the emergency liftgate safety release lever located on the bottom of the liftgate. If someone is inadvertently locked in the luggage compartment. The liftgate can be opened by doing as follows:
1. Input the mechanical key into the hole.
2. Push the mechanical key to the right.
3. Push up the liftgate.
WARNING
No one should be allowed to occupy the trunk at any time. The trunk is a very dangerous location in the event of a crash.
Use the release lever for emergencies only. Use with extreme caution, especially while the vehicle is in motion.